Is Delta-8 Legal in West Virginia? 2022

Delta-8 THC is legal in West Virginia thanks to the Farm Bill and the state's own laws. Read on to learn about the industrial hemp research and legislation that has led to where we are today—with hemp, defined as cannabis with less than 0.3 % Delta 9 THC concentration, being the source of many new and exciting legal cannabinoids.
What is Delta-8 THC?
Delta-8 THC is a cannabinoid. A cannabinoid is simply a substance that comes from the cannabis plant, and there are hundreds! Cannabidiol (CBD) and Delta-9 tetrahydrocannabinol (THC) are probably the two best known cannabinoids.
Delta-8 THC is one of the many other cannabinoids in the cannabis plant, and perhaps the next best known and loved! It is very similar to Delta-9 THC, including the potential to produce psychoactive effects. While Delta-8 THC can produce effects on par with the Delta-9 THC cannabinoid, the well-known psychoactive chemical found in cannabis, Delta-8 is generally not quite as strong. 
A lower effect level can be a great option to those who may become overwhelmed when using marijuana. Furthermore, in a state like West Virginia that does not allow recreational marijuana, Delta-8 and other hemp derived products are a a clear advantage.
What's the Difference Between Delta-8 THC, Delta-9 THC, Delta-10 THC?
Delta-8 THC, Delta-9 THC, and Delta-10 THC all occur naturally in the cannabis plant, and all three are isomers of the same molecule, tetrahydrocannabinol, or THC. THC is the main substance to cause psychoactive effects in cannabis. Delta-8 and Delta-10 molecules are very similar in structure and can produce similar effects as Delta-9, though typically at a lower intensity. 
Learn more about hemp-derived Delta-9 THC here: Is Hemp-Derived Delta-9 Legal in America?
Does the Farm Bill make Delta-8 THC legal everywhere? 
For many years in the U.S., cannabis was illegal according to federal law whether or not it contained THC, the main psychoactive chemical that occurs naturally in the plant. In the 2010s, the United States Congress enacted two groundbreaking pieces of legislation, called "Agricultural Acts" and commonly known as the Farm Bills. 
These Bills recognized that hemp with very low Delta-9 THC concentration is distinct from higher-THC cannabis. In addition to the hemp plant, hemp extracts and hemp products, including THC isomers, are also fully allowed by the Farm Bills.
Thank a hemp farmer
The 2014 Farm Bill removed hemp from the Drug Enforcement Agency's (DEA) list of Schedule 1 substances, and this was the seed of hemp's recent legally produced resurgence. The Bill made hemp federally legal and allowed long-forbidden research into hemp-derived cannabinoids to begin in earnest.
The 2018 Farm Bill expanded on this, allowing people to produce, sell, and consume hemp-derived products, making it clear to legal experts that all other plant materials and substances derived from legally-defined hemp are also federally-compliant [1].
The federal legislation defines cannabis plants with less than 0.3% of Delta-9 THC per dry weight as hemp plants, or hemp, and allows it in all 50 states. A cannabis plant with more than 0.3% Delta-9 THC per dry weight is defined as marijuana, and federal law still treats marijuana products as controlled substances on the DEA's Schedule 1 list.
This is despite the fact that many states or territories, including some that border West Virginia, do allow medical use and/or adult recreational use of cannabis containing much more than 0.3% Delta-9 THC. 
Hemp is not a controlled substance
The Farm Bill, from the federal government, defines hemp as: 
Hemp.–The term `hemp' means the plant Cannabis sativa L. and any part of that plant, including the seeds thereof and all derivatives, extracts, cannabinoids, isomers, acids, salts, and salts of isomers, whether growing or not, with a delta-9 tetrahydrocannabinol concentration of not more than 0.3 percent on a dry weight basis.
Most states passed similar laws in the year or years following the Farm Bill's enactment. Most of these adopted the same definition of hemp, and legalized hemp products. So they are no longer DEA controlled substances at the federal level.
To learn about Delta-8 and West Virginia's neighbors, check out Is Delta-8 Legal in Maryland?, Is Delta-8 Legal in Ohio?, and Is Delta-8 Legal in Virginia?
For all 50 states, read Is Delta-8 THC Legal in Your State?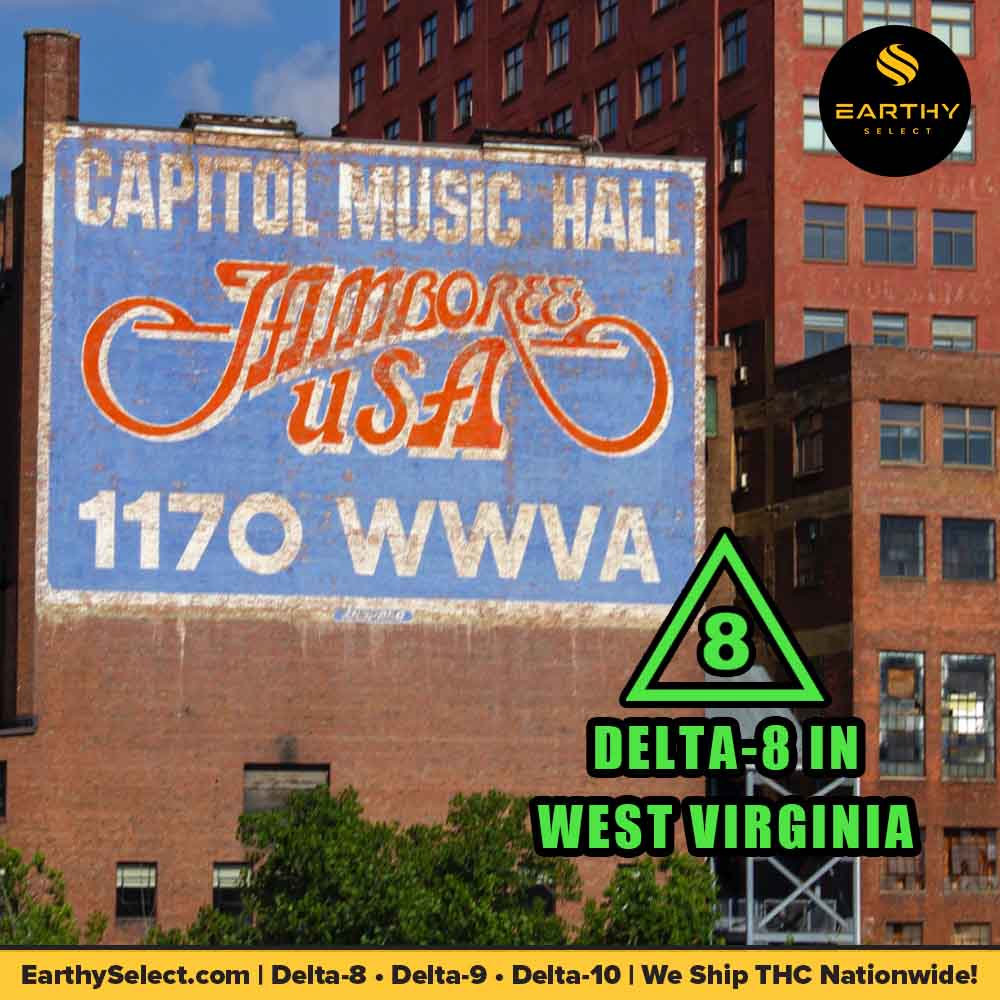 Does West Virginia have recreational marijuana?
West Virginians might have some recreational plant material, but they should definitely be aware of the low possession limits. That's because non-medical marijuana is not yet legal in West Virginia. In fact, "possession of marijuana in any amount is a misdemeanor punishable by not less than 90 days, nor more than 6 months and not fined more than $1,000 [2]."
Good news may be coming though. House Bill 2291 and Senate Bill 649 are two pieces of pending legislation, which would legalize adult personal use of and the possession of up to one ounce of cannabis [3].
A third act, House Bill 2912, is also pending. It would legalize and regulate adult use marijuana via state-run stores. Adults would be allowed to purchase up to two pounds and could grow up to three plants for personal use [4].
Does West Virginia allow medical marijuana?
Yes, West Virginia operates a medical cannabis program, administered by the Department of Health and Human Resources.
Senate Bill 386 created the Medical Cannabis Act, passed by the legislature and signed into law in 2017. It allows cannabis to be used for certified medical use by West Virginia residents with a serious medical condition. Only these types of cannabis are permitted: "pill; oil; topical forms including gels, creams or ointments; a form medically appropriate for administration by vaporization or nebulization, dry leaf or plant form; tincture; liquid; or dermal patch [5]."
Qualifying patients, under doctor's advice, may obtain medical cannabis if they suffer from certain medical conditions. A patient needs to "have a terminal illness or if they suffer from cancer, HIV/AIDS, ALS, Parkinson's disease, multiple sclerosis, spinal cord damage, epilepsy, neuropathies, Huntington's disease, Crohn's disease, post-traumatic stress disorder, intractable seizures, sickle cell anemia, or severe chronic or intractable pain [6]".
Is Delta-8 legal in West Virginia?
Hemp-derived Delta-8 THC is legal in West Virginia according to state laws, and federal law.
The West Virginia Department of Agriculture defines hemp and derivatives of such plant the same as the federal government does, allowing Delta-8 products from legal hemp [7]. Hemp production is approved and sanctioned by the West Virginia Department of Agriculture and its licensure program [8].
WV Senate Bill 666 was introduced in early 2022, the purpose of which was to add Delta-8 and Kratom to the list of controlled substances in West Virginia. However, it did not pass [9].
Where can I buy Delta-8 in West Virginia?
Delta-8 THC products derived from hemp plants are flying off the shelves at smoke shops and gas stations all across the Mountain State. For best potency and and fast friendly service, order online from Earthy Select who offers a range of powerful Delta-8, Delta-9, and Delta-10 goods and ship quickly nationwide.
Parting thoughts on Delta-8 in West Virginia
Delta-8 THC is one of the many innovations to come from the resurgence of industrial hemp research and production in the United States.
West Virginia has supported hemp's legal status and the industry operating legally, processing hemp plants into CBD products and other extracts for some time. In the end, folks should do their own due diligence and make their own choices about cannabinoids like Delta-8 THC. As the state motto reminds us, "mountaineers are always free."
---
Medical Disclaimer / Legal Disclaimer – Information is provided for educational purposes. It does not, and is not intended to, constitute legal advice or medical advice. We attempt to be accurate and up to date but the legality of cannabinoids and the science of cannabis is evolving. The author is neither a legal professional nor a medical expert. You should check with your local authorities and medical providers before buying or using any products.
References
Frequently Asked Questions
Did West Virginia legalize hemp?
Yes, legal hemp and its commercial sale is permitted by West Virginia State Law. Hemp production is administered and licensed by the West Virginia Department of Agriculture.
Is Delta-8 a controlled substance in West Virginia?
No, according to Article 12E of the Industrial Hemp Development Act in West Virginia law, hemp and hemp derivatives are not controlled substances.  
What is the correct dosage of Delta-8?
Products with THC, even at low dosages, have the potential to produce psychoactive and therapeutic effects. While our products have a suggested dosage listed on each package, the strength of the effects on a particular person will be different depending on a few things: the dosage level, body weight, food or other substances in the system, personal body chemistry, and experience level or tolerance of THC.
Generally speaking,  it is recommended that you start with the lowest dose, ie. 5mg to 10mg, and gradually increase it until you reach satisfactory results. Consult your healthcare provider with specific questions about using any therapeutic products. 
Can I order Delta-8 online for delivery?
Yes! Delta-8 THC and other hemp-derived products with less than 0.3% Delta-9 THC are federally legal to transport across state lines. Certain states have limitations on what they allow within their borders, and these can change. All Earthy Select products are federally-compliant to ship nationwide. 
Will Delta-8 show up on a drug test?
Yes. It will depend on dosage size and regularity of use, but there is a risk of failing a drug test. Drug tests for cannabis generally identify THC or its metabolites, and Delta-8 THC can make a person fail a drug test. If you anticipate taking a drug test, we suggest checking with your employer or test administrator for clarity prior to taking Delta-8 THC or any full spectrum products.

https://www.earthyselect.com/wp-content/uploads/2022/06/Is-Delta-8-Legal-in-West-Virginia-1500x1000-1.jpg
1000
1500
Pete
https://www.earthyselect.com/wp-content/uploads/2021/11/eslnc.png
Pete
2022-06-15 16:57:46
2022-06-21 15:38:41
Is Delta-8 Legal in West Virginia? 2022