Tetrahydrocannabinolic Acid. Pure and potent effects you can feel.
THCa (Tetrahydrocannabinolic Acid)
Earthy Select produces premium THCa products using proprietary genetics and expert farming standards. Our high THCa cannabis plants are sustainably grown and harvested using organic practices on family farms and indoor facilities in California and Colorado.
Our plants are handled and processed with care to produce rich terpene profiles and excellent flavors and effects in each strain. For full traceability from farm to shelf, our cannabis is lab tested according to USDA standards, both pre and post harvest. We use the freshest cannabis for premium products that meet all quality and safety standards.
---
Our pure THCa Extracts, derived from our premium THCa flower, pack a full gram of concentrated THCa, and .3 grams of live resin CBD sauce, terpenes, and other minor cannabinoids for a strong, clean profile. Great for next level dabbing.
The precious and powerful high THCa Extracts are packed in a child-resistant glass jar for potency, flavor and safety.
THCa Freeze-Dried THCa Concentrate Extract represents the perfect blend of purity and strength. It is derived exclusively from fresh cannabis packed with cannabinoids and terpene-heavy trichomes, promising a pure and natural experience.
Our exclusive Freeze-Dried THCa Concentrate Extract is made with a solvent free process which ensures you get only the finest from the cannabis plant. Melt away today!
Extracted from the finest cannabis sources and refined to maximum purity, this oil offers a unique experience. With high concentrations of THCa, the non-psychoactive form of THC, you can explore the therapeutic benefits of cannabis in a way that suits your lifestyle. Whether mixed into edibles, added to oils, or vaporized, this oil delivers a powerful and clean effect. Discover the full potential of cannabis with our THCa Concentrate Oil and take your experience to new heights.
THCa Extract Strains
Super Sour | Sativa
Super Sour is a bulky and dense sativa dominant strain crossing Sour Tsunami with GG#4 Conversion to produce this extra sour built upon the beloved Sour Tsunami. The primary terpenes in Super Sour are myrcene, terpinolene and limonene. The result of this potent THCa Extract is a satisfying sour smack with classic gassy funk.
Cherry Soda | Indica
Cherry Soda is a robust indica dominant hybrid strain with large buds and heavy trichomes, originating from California. The profile is true to the Cherry name in flavor and aroma, alongside spicy sweetness and fresh high citrus notes. The primary terpenes in Cherry Soda are myrcene, limonene and beta-caryophyllene. Enjoy the sweet mix of sweetshop, flowers and pine.
Lifter | Sativa
Lifter is a pioneering and award-winning, sativa dominant strain that comes from crossing SH 50 (Special Sauce x New World Haze) and Early Resin Berry (ERB). The combination of terpenes from these parents creates a gassy, funky sweet mix that hits the palate with just the right balance of bitterness. Primary terpenes from Lifter are myrcene, ocimene, and beta-caryophyllene and the versatile blend goes from sweet to gassy with a distinctively sharp nose cutting through deep layers of the forest.
Sour Special | Indica
Sour Special is an indica dominant strain that is the result of pairing Special Sauce with GG#4 Conversion. The strain is woody and fruity, spicy and sour with astringent berry and exotic flavors plus sour dank earth. Sour Special's primary terpenes are myrcene, terpinolene and limonene and the essences converge in a strong and pleasant sweet berry scent with earthy undertones.
Hawaiian Haze | Sativa
Hawaiian Haze is an award-winning, sativa dominant hybrid strain that comes from crossing DC Haze "CC" and Early Resin Berry (ERB). The resulting unique and funky terpene profile brings the taste of the tropics to everything it touches. Recognizable aromas from the primary terpenes myrcene, alpha-pinene and limonene intertwine with key secondary and tertiary terpenes. Together they conjure sunny equatorial grandeur and contentment.
Canna Cake | Sativa
Canna Cake is a sativa dominant strain with big flavor. Its lineage results in a rich spicy aroma and tangy sweet-piney and citrus earthiness. The main terpenes in Canna Cake are myrcene, limonene and alpha-pinene, and they combine for a clean and classic profile with sharply diesel nose and woody, nutty, spicy musk.
Sour Lifter | Sativa
Sour Lifter is a diploid, sativa dominant hybrid strain that comes from crossing SH 50 (Special Sauce x New World Haze) and their GG#4 Conversion. The products of this pairing are an up front sweet pungent aroma and full sour diesel finish. Sour Lifter's primary terpenes are myrcene, terpineol and limonene which interplay for a robust blend. Its rich profile shares the original Lifter's sweet gassy funk and makes it sour with notes of lemon rind and fresh full grapes mixed with deep diesel.
Suver Haze | Sativa
Suver Haze is an award-winning, sativa dominant strain that was born of crossing Suver 8 and Early Resin Berry (ERB). The cross produces a peppery spicy aroma and pungent woody and lighter skunk flavor. Top level terpenes in Suver Haze are myrcene, beta caryophyllene and limonene. These pair to create an exotic sour apple flavor with pleasant underlying sweetness.
THCa Freeze-Dried THCa Concentrate Extract Strains
Papaya | Indica
Papaya is a potent indica dominant strain made from crossing Ice 2 with Citral #13. Papaya gives users a calming high, perfect for chilling with friends, watching a movie or couching. Papaya's delicious fruity and sweet aroma meets a spicy, peppery flavor to create a very smooth and tasty Freeze-Dried THCa Concentrate Extract with potent cerebral and body effects.
Purple Punch | Indica
Purple Punch is the sweet and calming combination of two beloved indica-dominant strains: Larry OG and Granddaddy Purple. It smells and tastes like grape candy, blueberry muffins, and sweet tarts. Purple Punch is a delicious dessert strain that covers you head to toe, delivering a heady buzz and body effects. The sedating power of this Freeze-Dried THCa Concentrate Extract may be best for nighttime or when you want to maxo-relaxo.
THCa Concentrated Oil Strains
Breadstix | Indica
Breadstix combines Garlic Breath with Jiffy Cake for a taste like no other. This pungent strain has a garlicy, nutty and spicy aroma and serious flavor profile that goes funky and skunky. Get the couch ready before you hit this THCa Concentrated Oil. The smooth full bodied hits of Breadstix will satisfy your head and wrap your body up a big comfy hug.
Wedding Cake | Hybrid
Wedding Cake is a hybrid strain made by crossing Triangle Kush with Animal Mints. It brings on relaxing and euphoric effects that calm the body and mind alongside a pleasant head high. Wedding Cake THCa Concentrated Oil has a tangy fruity flavor profile with undertones of pepper and spices.
What is THCa Flower?
THCa Flower usually refers to cannabis from hemp that has a high percentage of tetrahydrocannabinolic acid (THCa). It's also called THCa hemp flower or high THCa hemp flower. THCa is a cannabinoid that is non-psychoactive unless it is decarboxylated by heating. When THCa FLower is heated by smoking, vaping or cooking, the THCa converts to Delta-9 THC, which can produce psychoactive effects and feelings of being high.
Does THCa get you high?
Yes, it can, indirectly. THCa is non-psychoactive. Yet, when it is heated by smoking, vaping, or cooking, it is converted to Delta-9 THC, which is psychoactive and can produce feelings of being high.
What are THCa Diamonds?
THCa Diamonds are concentrated crystals of pure THCa, usually in a terpene based thick liquid or "sauce." Since they are concentrated, they can produce strong effects when smoked, vaped or dabbed.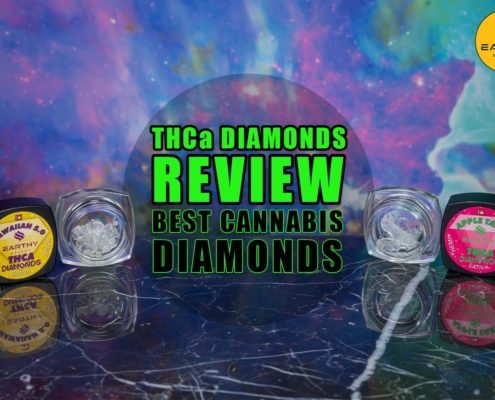 https://www.earthyselect.com/wp-content/uploads/2023/11/THCa-Diamonds-Review-Best-Cannabis-Diamonds-2023.11.8-Earthy-Select-Blog-Header-Template-v11-1500x1000-logo-in-corner.jpg
1000
1500
aprilcope
https://www.earthyselect.com/wp-content/uploads/2021/11/eslnc.png
aprilcope
2023-11-13 10:40:50
2023-11-13 16:37:05
THCa Diamonds Review: Best Cannabis Diamonds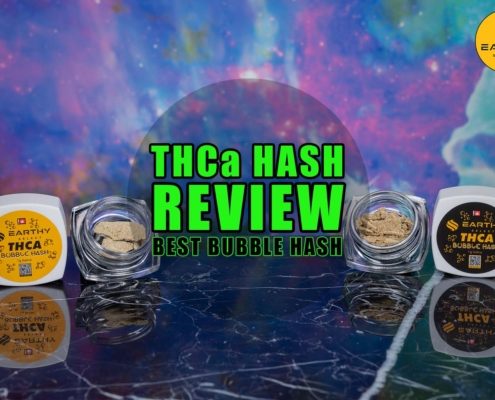 https://www.earthyselect.com/wp-content/uploads/2023/11/THCa-Hash-Review-Best-Bubble-Hash-2023.11.8-Earthy-Select-Blog-Header-Template-v11-1500x1000-logo-in-corner.jpg
1000
1500
aprilcope
https://www.earthyselect.com/wp-content/uploads/2021/11/eslnc.png
aprilcope
2023-11-10 13:24:53
2023-11-10 13:24:53
THCa Hash Review: Best THCa Bubble Hash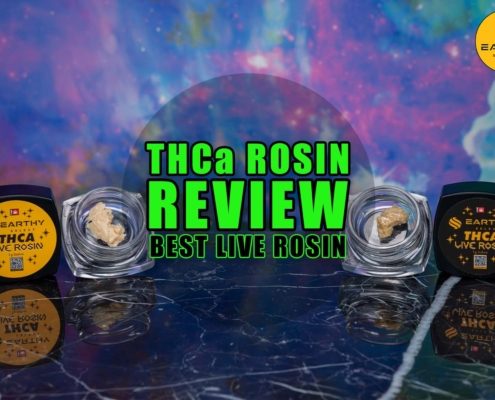 https://www.earthyselect.com/wp-content/uploads/2023/11/THCa-Rosin-Review-Best-Live-Rosin-2023.11.8-Earthy-Select-Blog-Header-Template-v11-1500x1000-logo-in-corner.jpg
1000
1500
aprilcope
https://www.earthyselect.com/wp-content/uploads/2021/11/eslnc.png
aprilcope
2023-11-09 19:35:47
2023-11-10 12:44:50
THCa Rosin Review: Best Live Rosin